Forged Steel Y Type Globe Valve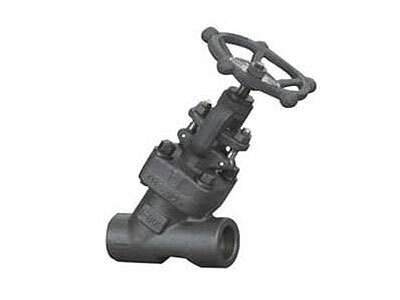 Name:Forged Steel Y Type Globe Valve
Service Online

Product details
Forged Steel Y Type Globe Valve
Product Details
It refers to the globe valve with its stem and passageway forming an certain angle, and its seat sealing face and inlet and outlet passageways forming a certain angle. Its left and right valve bodies are separated by the valve seat which can be replaced by removing the bolt connecting the two valve bodies. A erosion-proof and corrosion-resisting guard plate equipped within the valve cavity can protect the valve body from being flushed, corroded by the medium at the moment of opening the valve, and is characterized as high abrasion-resisting and erosion-proof. This kind of globe valve hardly changes the flowing direction.
Technical Specifications
Design standard: ASME B16.34、GB/T 12235、BS1873
Face to face standard: ASME B16.10、GB/T 12221
Flange ends: ASME B16.5、GB/T 9113
Pressure test:API 598、GB/T 13927
Product Specifications
Body material: carbon steel, stainless steel, alloy steel
Nominal diameter: 1/2"~24"(DN15~DN600)
Pressure range: Class150~2500(PN10~PN420)
Working temperature:-196℃~560℃
Operation : wrench, worm gear, electric,etc.
Design Features
Straight through, small flow resistance.
Sealing surface adopts spherical surfaces, bringing linear contact between the sealing faces, guaranteeing reliable tightness and preventing scarring.
High abrasion-resisting and erosion-proof performances.
The valve is designed as a back seal structure, ensuring no medium leakage occurs in the stuffing box, reliable tightness and online replacement of packing.
Its valve stem sealing is realized by collaboration of flexible and woven graphite, ensuring a more reliable tightness.
Application
Chemical fertilizer, mining, metallurgy, aluminum oxide and other industries
Recommended Related Products
More information
If you have any enquiry about quotation or cooperation, please feel free to email us at tsv@tsv.cn or use
the following enquiry form. Our sales representative will contact you within 24 hours. Thank you for your interest in
our products.
| | | |
| --- | --- | --- |
| Contact : | | * |
| Tel : | | |
| Fax : | | |
| CompanyName : | | |
| Add : | | |
| E-mail : | | * |
| Subject : | | |
| Message : | | * |
| | | |