Forged Steel Y Type Globe Valve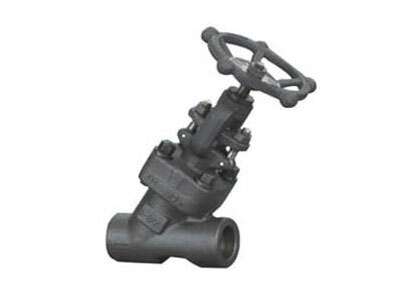 Name:Forged Steel Y Type Globe Valve
Service Online

Product details
Forged Steel Y Type Globe Valve
Standard Material Specification
-29 oC~425 oC

-29 oC~550 oC

-196 oC~200 oC
Note: Other materials are available upon request.
CS=Carbon Steel; AS=S=Alloy Steel; SS=Stainless Steel.
Class 800Lb, Dimension (mm) and Weight (Kg)
It refers to the globe valve with its stem and passageway forming an certain angle, and its seat sealing face and inlet and outlet passageways forming a certain angle. Its left and right valve bodies are separated by the valve seat which can be replaced by removing the bolt connecting the two valve bodies. A erosion-proof and corrosion-resisting guard plate equipped within the valve cavity can protect the valve body from being flushed, corroded by the medium at the moment of opening the valve, and is characterized as high abrasion-resisting and erosion-proof. This kind of globe valve hardly changes the flowing direction.
Recommended Related Products
More information
If you have any enquiry about quotation or cooperation, please feel free to email us at admin@tsv.cn or use
the following enquiry form. Our sales representative will contact you within 24 hours. Thank you for your interest in
our products.
| | | |
| --- | --- | --- |
| Contact : | | * |
| Tel : | | |
| Fax : | | |
| CompanyName : | | |
| Add : | | |
| E-mail : | | * |
| Subject : | | |
| Message : | | * |
| | | |